The nursery is the heart and soul of the Rincon Ranch
Teens and medical grade clones available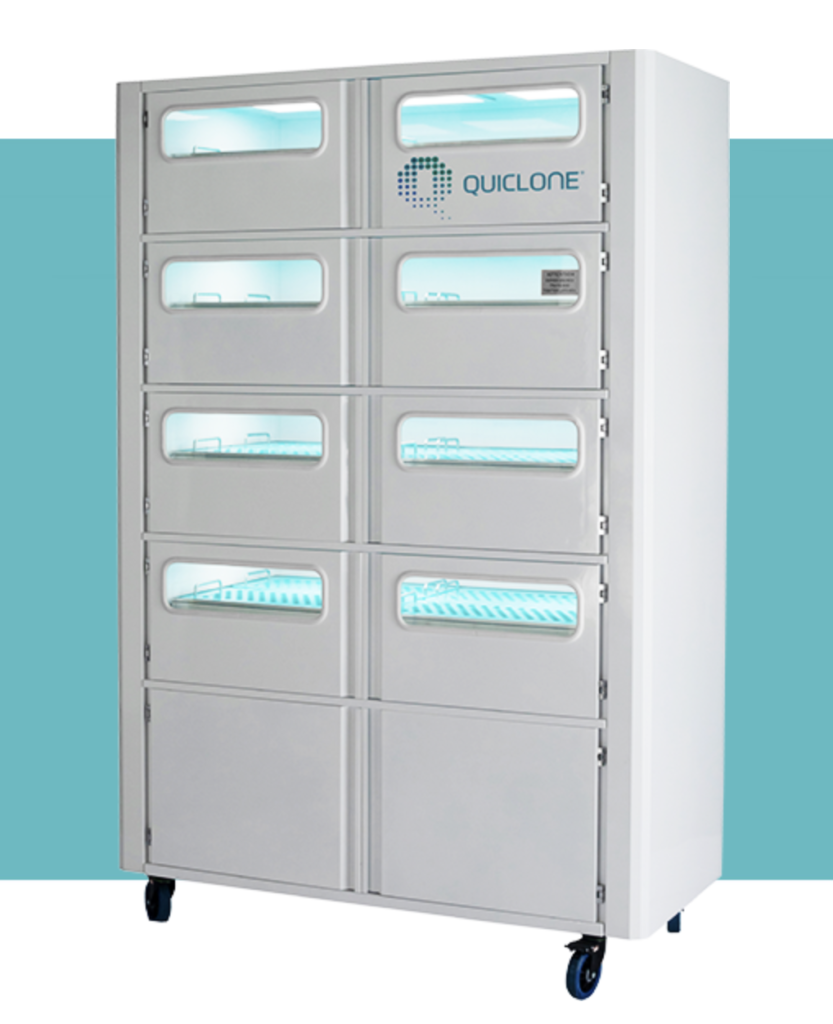 We believe any good cannabis cultivation starts with great genetics and strong clones.
Our Quiclone machines produce thousands of sterilized medical grade clones every week. These clones are the foundation of our operation and give us strong, healthy, and contaminate free plants to grow.
If you need clones or teens to jump start your grow, hit us up.
We don't take any chances with the plants we grow and neither should you!
Strains
Alien OG
First available as a clone in California's Bay Area and now in seed form from Cali Connection, Alien OG is a cross of Tahoe OG and Alien Kush. Alien OG has the typical lemon and pine OG smell and flavor, and its intense high combines heavy body effects and a psychedelic cerebral buzz. Beginners and novices, be sure to take it slow with this heavy-hitter.
| | |
| --- | --- |
| TYPE: | Hybrid |
| FLOWERING TIME: | 7-9 weeks |
| YIELD: | Heavy |
Blood Diamond OG
Blood Diamond OG is a beautiful modern version of OG Kush cannabis. A true indica, this strain induces full-body relaxation that nixes pain and muscle spasms before settling into an overall laziness. It can leave you mentally euphoric in smaller doses, but it's definitely not one for times when work or even wakefulness needs to happen. BloodDiamond OG is the result of an unknown strain crossed with OG Kush and has the familiar OG aroma of citrus-pine supported by fuel undertones.
Fire OG
Bred by crossing OG Kush and San Fernando Valley OG Kush F3, Fire OG has a strong scent similar to Lemon Pledge and an effect that can last up to 3 hours. The plant has frost covered nuggets with red hairs, giving the appearance that it is on fire–where the name Fire OG comes from. Flowering time is generally 9-10 weeks.
| | |
| --- | --- |
| TYPE: | Hybrid |
| FLOWERING TIME: | 8-9 weeks |
| YIELD: | Heavy |
Gelato
Gelato (also referred to as "Larry Bird") is a tantalizing hybrid cannabis strain from Cookie Fam and Sherbinski, following in the footsteps of its parents Sunset Sherbet and Thin Mint GSC. This Bay Area, California native gets its name from the fruity, dessert-like aroma, a common genetic thread among the Cookie family. Her buds tend to bloom in dark purple hues illuminated by fiery orange hairs and a shining white coat of crystal resin. Novice consumers may want to approach this THC powerhouse with caution, but those armed with a high tolerance will delight in Gelato's heavy-handed euphoria.
Gelato 33
Originally from the famous Cookie Fam of the Bay Area, Gelato is a cross between Sunset Sherbet and Thin Mint GSC. Since its birth, a number of phenotypes have been released, all with their own unique attributes. One of them is Gelato #33, a balanced hybrid with compact buds, staying true to its Cookie genetics. Like other Gelato phenotypes, Gelato #33 is covered with fiery orange hairs while its buds can be dark green to purple. With sweet citrus and fruity flavors, Gelato #33 offers an uplifting and energetic high that is perfect for any post-work activity after a long day.
Ice Cream Cake
Ice Cream Cake is an indica-dominant cross of Wedding Cake and Gelato #33. Completely flushed with icy trichomes, the buds express light green coloration with dark purple hues throughout. Ice Cream Cake maintains a creamy flavor profile with sweet hints of vanilla and sugary dough. Effects come on heavily, leaving you completely relaxed with a good night's sleep soon to follow.
Josh D OG
Josh D OG by Karma Genetics is a handcrafted OG hybrid with a lineage stretching back to Florida, 1991. Josh D and Matt "Bubba" Berger began developing these genetics in Orlando and helped define the OG culture we know today. This strain is a three deep cross of SFV OG x Triangle Kush x Hell's Angels OG and offers consumers relaxing effects with an amplified Kush flavor. This indica-dominant hybrid is euphoric and happy while still saddling consumers with potent mid-level sedation.
Kush Mints x Wedding Cake
Orange Sherbert
Orange Sherbet marijuana strain is a 50 Indica/50 Sativa, well-balanced marijuana hybrid. The breeders of this cannabis strain remain unknown. This herb is one of the most hard-to-find marijuana strains.
Purple Punch
Purple Punch is the sweet and sedating union of two indica-dominant classics. By breeding Larry OG with Granddaddy Purple, the astonishing trichome laden Purple Punch was born, smelling of grape candy, blueberry muffins, and tart Kool-Aid. The potency of this strain gives the consumer a one-two punch to the head and body, initially landing between the eyes and settling down into the limbs.
Rincon OG
Our custom OG "ocean grown" just for you.
SFVOG
SFV OG by Cali Connection is a sativa-dominant hybrid that is great for patients who need strong pain relief but don't want to be stuck on the couch. As the name indicates, this OG Kush relative originates from California's San Fernando Valley. Although their names are barely distinguishable, SFV OG Kush is actually the Afghani-crossed child to SFV OG. The flowers will stay fairly small and may not look super impressive, but what it lacks in looks it makes up for in smell.
Silverback OG
For the first time, Dian Fossey isn't the only person able to enjoy life with the gorillas. For those struggling with insomnia and stress, Silverback Gorilla is a must-try strain. While typically gentle and relaxed, this indica can pack a punch. Fast-acting and hard-hitting, the potency of Silverback Gorilla may come as a surprise. Known to be a cross between Grape Ape and Super Silver Haze, this strain is strictly for nighttime consumption. Featuring a musky, piney aroma similar to a morning walk in the forest, this strain provides a truly relaxing experience.
Sour Power
The three-time Cannabis Cup winning Sour Power is a sativa-dominant hybrid bred by HortiLab Seeds. A cross between StarBud and East Coast Sour Diesel, Sour Power buds are crowned with pale pointed leaves and a garland of orange hairs.
Strawberry Banana Sherbert
Strawberry Banana is an indica developed by DNA Genetics in collaboration with Serious Seeds. A genetic cross of Crockett's Banana Kush and the "Strawberry" phenotype of Bubble Gum, Strawberry Banana inherited a sweet, fruity flavor, hence the name.
White Buffalo
White Buffalo is an 80/20 sativa-dominant cannabis strain that descends from a Romulan and a Blackberry Kush/Bay 11 hybrid. Like the sacred animal of Native American tradition, this White Buffalo is a cherished rarity that may only seldom migrate to your stash jar.
White Tahoe Cookies
White Tahoe Cookies is an indica-dominant strain created by Kush4Breakfast and distributed by Archive Seed Bank. This strain is a blend of The White, Tahoe OG, and an unknown Girl Scout Cookies cut, and exemplifies attributes of each in trichome coverage, effect, and aroma. The GSC bouquet has been enhanced through this cross, offering up sweeter, hashier notes with distant OG undertones.